Expert Conversations on Cholangiocarcinoma
The Benefits of a Multidisciplinary Approach in Caring for Patients With Cholangiocarcinoma
Last Updated: Monday, June 27, 2022
Paula Kennedy-Newton, MSN, AGNP-C, and Natasha A. Pinheiro, MSN, AGPCNP-BC, AOCNS, discuss the coordination of care, both among multidisciplinary teams and across institutions, in treating patients with cholangiocarcinoma. They share their personal experiences with bridging care between smaller community care centers and their own larger institutions, highlighting how such collaborations can allow patients to benefit from the specialized imaging and treatment options offered at large centers while still receiving systemic treatment from their local practices.
---
Meet the faculty
---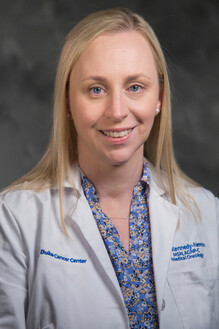 Paula Kennedy-Newton
MSN, AGNP-C
Duke Cancer Center, GI Medical Oncology
Paula Kennedy-Newton, MSN, AGNP-C, is a Nurse Practitioner of GI Medical Oncology at the Duke Cancer Center in Durham, North Carolina. She specializes in the care and management of patients with hepatobiliary and neuroendocrine malignancies.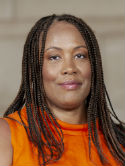 Natasha Pinheiro
MSN, NP, AGPCNP-BC, AOCNS
Memorial Sloan Kettering Cancer Center, Solid Tumor GI Medical Oncology
Natasha A. Pinheiro, MSN, NP, AGPCNP-BC, AOCNS, is a Nurse Practitioner of GI Medical Oncology at Memorial Sloan Kettering Cancer Center. She has worked with upper GI, hepatobiliary, and colorectal malignancies. She has a distinct focus on patients with hepatic arterial infusion pumps and young-onset colorectal cancers. She spent many years as a clinical nurse specialist working on clinical guidelines and nursing educational pathways.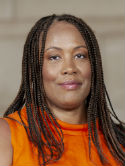 Natasha Pinheiro
Paula, I wanted to begin our discussion today by asking you to talk about the specialties that are involved in the initial workup, evaluation, and assessment of patients with cholangiocarcinoma.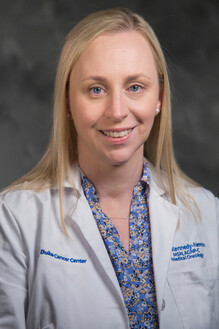 Paula Kennedy-Newton
When patients with cholangiocarcinoma present to us—either at the time of initial diagnosis or once they've been evaluated elsewhere and are coming to us for a second opinion—their workup quite frequently necessitates a multidisciplinary approach. We have many colleagues in various specialties who are involved in weighing in to ensure that the patient's case is being looked at from all angles and that all of the important boxes are being checked so that we can formulate a cohesive plan together.
If the patient has not already had imaging completed, then a radiologic evaluation is the first step. In our previous discussion, we talked about the need for high-quality imaging. It's also extremely beneficial to have specially trained radiologists who are very familiar with cholangiocarcinoma to interpret the imaging and give us a clear picture of the tumor characteristics, important structures involved, and the concern for metastatic spread based on the typical behavior of this type of cancer.  
Oftentimes, we'll need the involvement of our advanced GI proceduralists early in the diagnostic process. Patients might need an endoscopic procedure, such as endoscopic retrograde cholangiopancreatography (ERCP), for better direct visualization or pathological diagnosis. If there is concern for biliary obstruction based on the patient's liver function tests, stent placement can offer significant improvement.
As we discussed previously, surgical resection is always our first-line treatment, if possible, for patients with cholangiocarcinoma. Because of this, it's very important to have an experienced hepatobiliary surgeon evaluate the patient to determine if surgery would be safe and beneficial. If surgery is not an option, then medical oncology, radiation oncology, and potentially interventional radiology are involved in seeing these patients to determine next steps for treatment. Often, hepatology will be consulted as well to assist with managing liver dysfunction and associated symptoms.
Once we've gathered all of the necessary imaging, pathology, and lab work, we'll often review a particular patient's case in our hepatobiliary tumor board, especially if it's a unique or particularly complex scenario. A multidisciplinary tumor board is beneficial because it enables experts from many different specialties to converge in one room (or virtually, as has been the case for the past couple of years) and weigh in on each case, which then allows us to form a cohesive strategy. At that point, we can either prepare to move forward with treating the patient at our facility, or we can offer these recommendations to the patient's local team so they have a clear plan for moving forward and can get the patient into treatment as quickly as possible.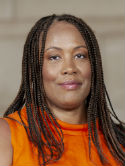 Natasha Pinheiro
As you mentioned, sometimes patients may be referred outside of a smaller community setting to a larger institution to afford them the availability of specialized hepatic surgeons, medical oncologists, interventional radiologists, and radiation oncologists who are well-versed in managing cholangiocarcinoma. It's very important that even if a patient is being seen at a smaller institution, the gastroenterologist, medical oncologist, and hepatologist know how to refer them to a specialized team if needed. Cholangiocarcinoma is known as an orphan cancer because it affects so few patients in the United States. Because you and I are at larger centers, we tend to see it a lot more than it is seen in community practices. Therefore, it's crucial for patients to understand how to either get referred or self-refer to a larger institution where they can receive very specialized treatment options.
The coordination of care among larger centers, smaller centers, community oncologists, and teaching centers gives us an ability to share knowledge among clinical teams. If a facility is less experienced with treating patients with cholangiocarcinoma, it gives them the opportunity to get information from a larger center and to see recent advances in this and other orphan cancers. It builds a bridge of knowledge. I've seen that first hand in working with smaller or community oncology groups. Although I know that we're all very busy wherever we work, occasionally I've seen instances where we've been able to share information across settings. We've been able to bridge the gap and have built relationships with some smaller clinical teams regarding patients like these with cancers that are not as frequently seen in the community.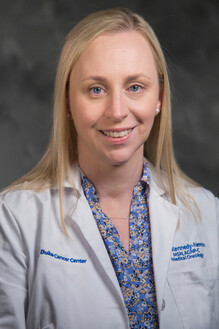 Paula Kennedy-Newton
Natasha, in your experience, when do patients from community practices most often come to your center?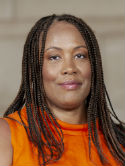 Natasha Pinheiro
Working in conjunction with a local team and a larger center is something that we often see in our practice. Patients from the community in our catchment area (the New York tri-state area and further out) who have initiated care locally, sometimes with systemic chemotherapy, will come to us at decision points either with new imaging or with an advanced symptom that needs to be managed at a facility that has more dedicated care.
My sense is that, when I see this happen, it's not usually for a standard-of-care option, such as standard-of-care systemic chemotherapy. It's more often if the patient needs something like advanced GI procedures, palliative radiation, or an evaluation for surgery. In your experience with these situations, how do you help patients fluidly navigate care between two clinical teams?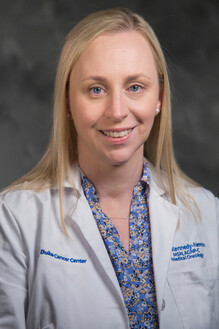 Paula Kennedy-Newton
With us being one of the larger teaching facilities in our region, we frequently have patients come to us from the community who desire a second opinion but want to be treated locally. Sometimes it's just a matter of them receiving reassurance that we agree with the treatment plan that's in place, and then having the opportunity to circle back with their team and co-manage care going forward. Something we really value is seeing patients back when it is time for follow-up and making decisions in conjunction with their local team. It gives patients a tremendous amount of reassurance and peace of mind that they can have two teams who are equally invested in their care.
We find that the opportunity to collaborate with local care teams is certainly there, and it's a great option. I think it's a huge benefit to the patient to have the ability to be treated closer to home, closer to their family and to where they live, but also to have the support and resources from a larger center available to them. As a larger center, it's certainly an opportunity that we value to be able to coordinate care for patients.
Like you said, oftentimes patients will come to see us at decision points. Therefore, that gives us an opportunity to look back and review what's been done to date and what we can possibly add to that. Have they had next-generation sequencing (NGS) completed? Has radiation therapy been explored fully as an option? What resources or specialties do we have that we can potentially add to the plan that's already in place? It gives us a chance to reevaluate, re-discuss with the patient, and then determine what we can add to the plan moving forward. Perhaps we have a clinical trial that the patient is eligible for. Perhaps the patient would be a candidate for a hepatic arterial infusion (HAI) pump. It's a good opportunity to regroup and then reconnect with the patient's local team to talk about what we may offer. This also includes if the patient is experiencing a disease- or treatment-related complication that we may be able to help temporize or palliate so that they can get back on track with their treatment closer to home.
Natasha, which services most frequently bring patients from the community to your institution?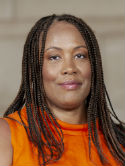 Natasha Pinheiro
At our center, interventional radiology tends to be the consult service that patients with cholangiocarcinoma who come from the community most frequently require. When the GI approach for stenting or dealing with biliary obstruction needs to be done percutaneously, most local GI specialists manage it well, but academic institutions have robust resources available in interventional radiology, at least in my experience.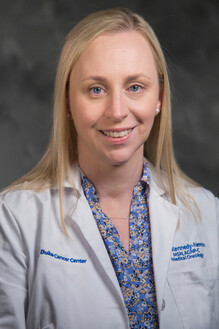 Paula Kennedy-Newton
Yes, having an interventional radiologist's expertise in weighing in on scans and saying, "Yes, I can see where this issue is. This could be alleviated by X, Y, Z," is invaluable. Oftentimes, we'll be contacted about patients being treated locally who we have seen in consult and who now need an intervention for bony metastases, painful lymphadenopathy, or something else that's causing pain or debility. In these cases, we can bring them back, have them evaluated by radiation oncology for palliative radiation therapy or interventional radiology for ablation or nerve block to help improve their symptoms, and then get them back on their way to resume treatment locally.
We're also frequently contacted when patients experience biliary obstruction and need rapid intervention with ERCP to evaluate for possible stent placement. We're able to coordinate this with our advanced GI proceduralists to help normalize liver function so that patients can feel better and resume treatment without significant delay.
I think it goes without saying that we're fortunate to have access to these specialties at a larger center, but we really value the opportunity to collaborate with community providers to help co-manage patients and offer services to them that may not be as readily available in their practice setting.
Do you frequently have patients from the community come to you for consideration of HAI pumps as well?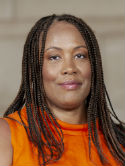 Natasha Pinheiro
Absolutely. We're one of the centers that uses that as one of our primary treatment options for people with liver-only metastases. For a good portion of our patients, we manage their pump therapy, and then they continue systemic therapy locally. This was especially true during the pandemic, when it didn't make sense for patients to risk traveling. We have a lot of patients who come from a large catchment area. So yes, we routinely work with local oncology practices, smaller oncology offices, and smaller hospital settings to coordinate care for those patients.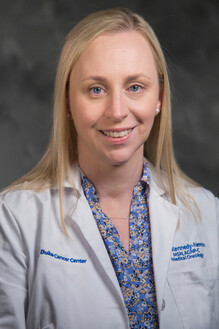 Paula Kennedy-Newton
That's a fantastic example of collaboration between a larger center that can offer a specialized, unique treatment approach, collaborating with a patient's local practice so that they can receive standard systemic chemotherapy locally at the same time. It's a unique opportunity for two practices to come together to provide the best care for our patients.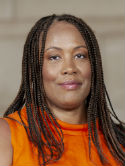 Natasha Pinheiro
I agree. Additionally, when certain institutions have enough patients who are candidates for HAI pumps or when an institution realizes that they can build that type of procedural in their area, their teams have come to our institution to get trained. Obviously, the surgeons who place the pumps must be trained on a whole different level, but we have nurses, medical oncologists, and advanced practitioners who have come and followed us in the clinic and infusion area to train with our nurses and learn how to access and treat within the pump. It's really great when we can share the knowledge, and these other areas have been able to pick up the mantle and develop certain programs in their own institutions. At the end of the day, it's a win-win for the patient to be able to access such treatment closer to home.
Another situation that I often see is when NGS indicates specific mutations or lack of mutations that make patients eligible for clinical trials or more novel therapies that are not always available at smaller oncology groups. With the growth of NGS and novel therapies, we're seeing such treatments increasingly offered at smaller institutions; however, it's still important to have the ability to access a larger center if needed.
The last thing I want to emphasize today is the importance of the multidisciplinary approach, regardless of whether it's at a large institution, a smaller institution, or a collaboration. The disease management team is important regardless of where it is. I think it's important to get everyone—especially when you're looking at imaging—involved at the time of decision. You want a radiation oncologist. You want a surgeon. You want interventional radiology. You want GI. You want the whole team to evaluate and ensure that the patient is getting all the possible options that are available to them at the time of decision and at time of complication, because there are sometimes things that one team might miss. The AP plays a crucial role on the multidisciplinary team in liaising among specialists, providing thorough and accurate patient information to consulting teams, and keeping patients and caregivers well informed throughout the process. When you approach it as a group, you're going to get all of the appropriate feedback that you need. It gives it a cleaner template to make the right decisions.